Noticias
Las placas madre MSI AM4 están preparadas para RYZEN 3
Ultima actualización: 31/07/2017
Las placas madre MSI B350/A320 de las Series GAMING y PRO ofrecen soporte total para los nuevos procesadores AMD RYZEN 3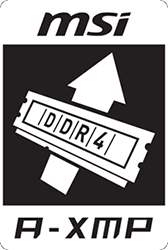 MSI, líder mundial en placas madre para gaming, se complace en anunciar que todas sus placas madre X370, B350 y A320 de las Series GAMING y PRO soportan los nuevos procesadores Ryzen 3, directamente de fábrica.
Además, al elegir las placas madre MSI B350/A320, obtienes mejor desempeño y mayor eficiencia de los procesadores AMD RYZEN Dual Core y Quad-core. MSI habilitó la característica número 1 del mundo para el desempeño y estabilidad de la memoria DDR4 para las placas madre basadas en AM4, A-XMP. Al utilizar A-XMP, las placas madre MSI AM4 permiten configurar sus tiempos y velocidades de memoria a sus configuraciones óptimas con un solo clic para obtener el mejor desempeño y estabilidad. A-XMP también soporta kits de memoria DDR4 superiores sin problemas. A-XMP está disponible en la BIOS de todas las placas madre MSI AM4.
MSI continúa elevando el desempeño con las placas madre B350/A320. Cuando se busca una placa madre AM4 con buen desempeño y asequible, con muchas opciones de conectividad y características técnicas exclusivas para gaming y profesionales, las placas madre MSI B350 / A320 son una opción que satisface.
Placas madre MSI B350 / A320 disponibles:


Hyperlink para reproducir el video: https://youtu.be/uzamLr-0axU
Rise back to glory with MSI and AMD RYZEN!